Air Conditioning Replacement in Highland, MI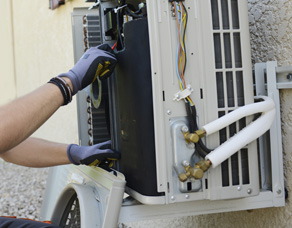 Thinking about replacing your old central air conditioning equipment?
A properly sized and installed air conditioning system from Hi-Tech Heating & Cooling is one of the best ways to ensure a comfortable environment in your home or business. Our experienced professionals can help you determine your best option in choosing a commercial or residential air conditioning system. Contact Us for a free estimate or view our FAQ page to help answer some of your heating and cooling questions.
Click here to book a sales appointment online! We can coordinate the replacement and/or installation of a new air-conditioning system to fit virtually anyone's schedule and are available to service both residential and commercial properties in Highland, Milford, Waterford, White Lake, Commerce and the surrounding areas.
Emergency Air Conditioning Replacement Services
We understand that air conditioning problems are not limited to normal office hours, so Hi-Tech Heating & Cooling offers emergency service that protects your family's safety and comfort. Our experienced, on-call technicians are ready to manage your urgent HVAC needs quickly and efficiently.
---
Contact us today to learn more about our cooling services! Or, to schedule a no-obligation energy audit, call 248.842.2162. We'll return your call promptly and look forward to working with you.