Furnace Repair in Highland, MI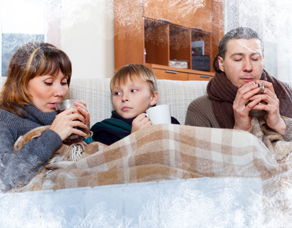 Let's face it- needing furnace repair in Oakland County is never convenient.
When your furnace breaks down in January and your home has no heat, contact Hi-Tech Heating & Cooling immediately and we will be there in no time! We have been providing professional furnace repairs to residents of Highland, Milford, Waterford, White Lake, Commerce and the surrounding areas for over 15 years.
Hi-Tech Heating & Cooling guarantees that we can provide you with the professional and efficient furnace repair service that you need. Our experienced electricians, mechanics, and technicians are highly trained, so you can rest assured that we can help you with any furnace repair needs quickly!
Emergency Furnace Repair Available All Week.
We know all too well that furnaces share no concern for normal office hours. As a result, Hi-Tech Heating & Cooling offers emergency service to protect your family's safety and comfort. Our experienced, on-call technicians are ready to tackle your emergency furnace repairs quickly and efficiently.
Your Trusted, Family-Owned Heating Repair Service
With so many things that can potentially go wrong with your furnace, it's important that experienced professionals perform your furnace repairs. Trust Hi-Tech Heating & Cooling to repair and maintain your furnace. We value our customers and their decisions, so we will always be honest and explain the best possible solution for you. Contact us today so we can get your furnace repaired ASAP!
Don't forget - keeping up on the maintenance of the furnace in your home can greatly reduce the cost of furnace repairs over time. Our comprehensive furnace maintenance program can prevent breakdowns, reduce energy costs, and save you a fortune on repairs.
---
Contact us about our emergency heating service! Or, to schedule a no-obligation energy audit, call 248.842.2162. We'll return your call promptly and look forward to working with you.